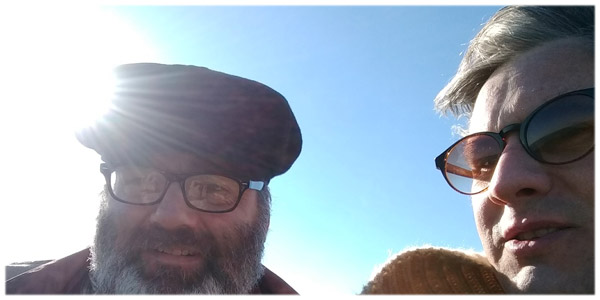 A meeting of creative minds

Both Allan and Payson came to the conclusion that the secret to the perfect shoe is to take personal responsibility for every part of the shoe design and manufacturing process, including the shoe last, the pivotal element of bespoke shoemaking. Allan and Payson met whilst attending the bespoke shoe last making course at Lastmaker House where Steven Lowe and Dominic Casey led them through the methods to accurately measure, fit and ultimately create a perfect fit shoe last for every customer. Their creative minds and personalities forged a friendship that has led to a successful business partnership, fittingly named the Last Shoemaker.
The Last Shoemaker Process 
The production process flows successively with Payson, based in the UK, attending to customers, taking measurements and fittings before developing a pair of bespoke, wooden shoe lasts. In collaboration with the customer, a shoe design is created. The lasts and drawings are then sent to Allan to produce the design by creating shoe uppers in his purpose-built workshop to the exacting requirements of this bespoke product. The finishing of the shoes is then done by Payson, hand-sewing the soles before the final fitting with the customer.
Our designs
The Last Shoemaker is a collaboration of two design led shoemakers creating a new, innovative shoe that has a foundation in the minimalist, barefoot shoe concept. Payson's non-conforming shoe is a unique design, offering the customer natural foot movement whilst still wearing comfortable and stylish footwear, traditionally constructed, which can be re-soled. Whilst the Last Shoemaker creates bespoke individual designs for customers, a range of ready made shoes available with typical toe shapes and traditional, hand-sewn shoe construction is available in all adult sizes.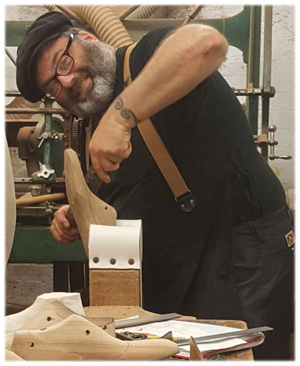 Payson
Originally from the USA and a former stonemason, has a shoemaking workshop based in York.  He has a passion for non-conforming shoes and historic hand working techniques. He has channelled this into co-creating the Last Shoemaker approach by studying historic shoes, shoemaking instruction manuals, and historic techniques like blind welt and turn shoe construction.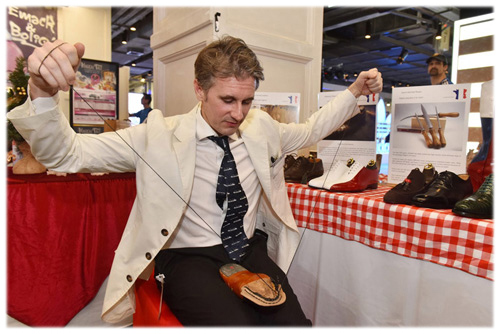 Allan
Scottish born but now based in Bangkok, Allan has been successfully running his own handmade shoe business for over 10 years.  With a focus on a hand welted construction, providing specialist services and creating patent designs, he has created a dynamic, forward-thinking bespoke department within the workshop for the past 3 years.
Allan and Payson list Janne Melkerson (Sweden), Dominic Casey and Steven Lowe (UK) and Jim McCormack (UK) amongst their mutual creative influences.